April 2013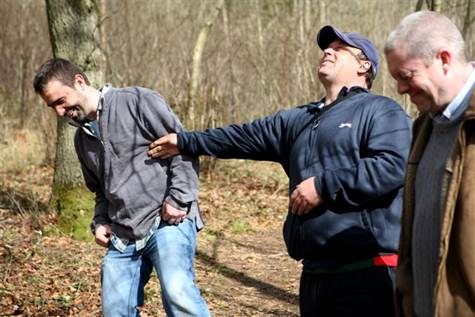 Service users and staff were the fortunate guests of Perry McGees National Tracking School, which is based up in the Yorkshire Dales at Grassington. Everyone enjoyed a fascinating day in the countryside, learning tracking and survival tips from one of the worlds foremost experts, who can usually be found training law enforcement agencies and the military.
The day began with some basic instruction in following trails and signs. Perry McGee brought along a tracking rig which he unpacked and demonstrated, including a hunting knife that had once been through the nose of a crocodile! Next the group split into three teams, who attempted to evade and track each other through the woods and fields alongside the River Wharfe. It was great fun and just like being a kid again. Each team was connected by walkie-talkies and given their own call-signs, although getting used to the two-way radios was a bit of a struggle for those used to using Nokias.
Lunch was provided by the hostel chef and eaten in idyllic surroundings on the banks of the river. A huge, prehistoric looking heron flew over at one point and some residents spent time hunting for crayfish under the rocks, although they only managed to find a few tiddlers. By the time they returned to the carpark, everyone was pleasantly tired and ready for a snooze on the drive home. Perry McGee was happy with everyones efforts and said he would like to run the course again this year. So get your names down early by speaking to Ken or Jacqueline.